The Molson have not paid too expensive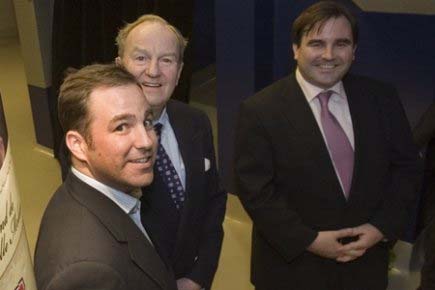 By Vincent Brousseau-Pouliot
Lapresseaffaires.cyberpresse.ca
Published: June 23, 2009
(Montreal) Experts are not surprised the sum of 500 million US disbursed to purchase Canadian.
Five hundred million US. That is a lot of money for a hockey team, but this record transaction does not surprised Michael Rapkoch, a financial evaluator who worked for George Gillett purchase Canadian in 2001.
"300 Million, I would have been surprised.". 600 Million, I would have been surprised. "500 Million, but I am not surprised", said the President of Sports Value Consulting, a firm of Texas who has evaluated professional sports teams for 60 customers in the past 10 years.
Of course, his former client who bought 80,1% Canadian and the Bell Centre to 275 millionsCAN in 2001, will be a considerable advantage to the closing of the transaction at the end of August. But still, Michael Rapkoch believes that the Molson family has not paid too expensive for the Montreal empire of George Gillett. "The Molson family has not paid too expensive, he said." "It was a good idea value team since it was there involved long and that she knows well leaders, people quality as President Pierre Boivin and his right arm to finance, Fred Steer."
The financial assessment of a sports team professional is not an easy task, warns Michael Rapkoch. "It is more an art than a science ', he said. An art that depends more on income and team borrowing capacity of simple multiplication of profits as any which listed public company. Profits are important, but buyers rely more on
income to determine the value of a team, said Michael Rapkoch." "Evaluate several criteria, including duration of wells, demand for subscriptions, general economic data contracts market team."
"The hockey and basketball, profits vary too much from year to year participation team in the series", adds Marc Ganis, President of SportsCorp, a Chicago firm specialized in sports consultation.
Two experts, the best indicator of the value of a team remains its borrowing capacity. It's kind of the value assigned to the team by financial institutions. "Good teams who lost money were sold at attractive prices because they had assets that allowed them to borrow", explains Marc Ganis.
In the case of the Canadian NHL him to jeopardise half of its value (including building). According to our information, the Canadian and the Bell Centre are hypothéqués to height of approximately 250 million. According to this calculation, George Gillett could expect up to 500 millionsCAN for his hockey team.
Added value
Several factors contributed to mount bids for le Canadien, which would have been sold for approximately 575 millionsCAN (500 million US). "As of Montreal, Canadian teams that transcend their sport, are found not often on the market, said Marc Ganis." "It is therefore necessarily added value to acquire the quenching of the Canadian team."
Between BCE and Quebecor fierce competition in the telecommunications sector has also played a role in the negotiations. "There is an additional price for preventing a competitor to buy", said Montreal Economist Peter Emmanuel Paradis, the group analysis firm.
George Gillett could get even more money for his hockey team if the credit market is was not tightened since summer 2007. "In a better economic environment, the team could be sold more expensive, said Marc Ganis." "Maybe even 100 million more dear."
Paradoxically, accessibility reduced credit has been one of the reasons that forced George Gillett to dispose of the Montreal Canadiens. The American businessman experiencing problems of liquidity with Liverpool FC, his team soccer in England. Mr. Gillett and Tom Hicks partner must renegotiate debt 350 million pounds sterling
(660 millionsCAN) in July.
© 2000-2010 Cyberpresse Inc., a subsidiary of Gesca. All rights reserved.