Assets like Astros' park, TV network should land deal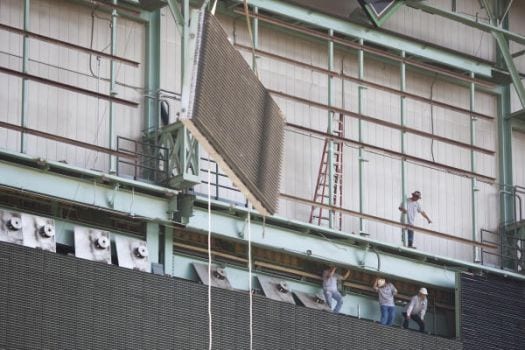 By David Barron
The Houston Chronicle
Published: November 20, 2010
Whether it takes six months, a year or longer for Drayton McLane to sell the Astros, the combination of a state-of-the-art ballpark, a new television network and a strong business operation should ensure a successful — and profitable – outcome for McLane and his family, the executive who will help conduct the sale of the team said Friday.
McLane announced he has hired former Major League Baseball official Steve Greenberg, a partner in the New York investment banking firm Allen & Co., to work with prospective buyers. Greenberg, the son of baseball Hall of Famer Hank Greenberg, said most comparable franchise sales require from six to 12 months and that he is open to examining offers from groups or individuals.
"There are only 30 of these (franchises) … and they do not turn over with great frequency. This is why there has been a robust market for them," Greenberg said. "I can pick better times (to market a team) in the sense that we haven't fully recovered from the recession, but things are on the move upward and there are certainly plenty of qualified buyers around who can do this."
The Astros' recent agreement with the Rockets and Comcast to launch a new regional sports network in 2012, Greenberg said, "puts them in a class with the Yankees and Red Sox and a handful of others, which enhances the overall asset. I'm very pleased and look forward to a strong process."
Neither McLane nor Greenberg would speculate on the eventual purchase price for the team, its lease at Houston's downtown Minute Maid Park and the team's portion of Comcast SportsNet Houston.
"We'll let the market determine the price," Greenberg said. "We're not going to put prices out there. We'll let people come to us and tell us what they think."
One inevitable benchmark, however, will be the recent sale in federal bankruptcy court of the Texas Rangers for $593 million to a group led by sports agent Chuck Greenberg and Hall of Fame pitcher Nolan Ryan. That sale, plus the value of the new cable network, led to speculation that the sales price on the Astros could approach $700 million.
'In a good situation'
"(McLane) is in a good position," said George Postolos, the former president of the Rockets. "Baseball has momentum. There have been a number of successful transactions over the last couple of years, and Drayton has the Astros extremely well positioned. He is in a good situation.
"The Astros compare favorably (to the Rangers) because of the new television agreement, because of the location of the station and because of the way the team has been managed at a high level over a long period of time. It is a great asset."
As McLane prepares to sell, perhaps the most important aspect to keep in mind is to have realistic goals for the final outcome, said Mike Rapkoch, the president of Sports Value Consulting in suburban Dallas.
"What sellers are wanting to pay is always more than what a buyer is willing to pay, and I think this is a buyer's market," Rapkoch said. "You have to have reasonable expectations, or you scare away reasonable buyers."
However, Dallas attorney Tom Melsheimer, who recently represented former Rangers owner Tom Hicks in his sale of Liverpool FC in England's Premier League, thinks the pursuit of major league franchises remains a seller's market.
"These teams remain trophy purchases, and there are almost always multiple buyers with the wherewithal to make purchases," Melsheimer said. "The Astros may not have the brand quality of the Yankees, but they are still one of a limited number of franchises."
One of McLane's primary advantages as he prepares to sell the team, Postolos said, was his decision to engage Steve Greenberg as his representative. Greenberg, a former MLB deputy commissioner, advised the family of commissioner Bud Selig on the sale of the Milwaukee Brewers and assisted Dan Gilbert in his purchase of the Cleveland Cavaliers. He also was involved in the launch of Classic Sports Network, now ESPN Classic, and CSTV, now CBS College Sports.
'A tough act to follow'
"He has as good a relationship with the sport as with anybody who is not employed by MLB," Postolos said. "He has a close relationship with the commissioner, and his family has a long history with baseball. You will see a process run by the highest standards and by the books."
By the same token, Postolos said, whoever buys the Astros will face the challenges of living up to McLane's standards as a steward of baseball in Houston.
"You can see the high regard in which he is held by the people who work with him, and you can see how seriously he takes his responsibilities and how motivated he is to do things the right way," Postolos said. "Looking at some of his accomplishments, it's incredible to consider where he found the Astros and where he is leaving them. He will be a tough act to follow."
david.barron@chron.com
http://www.chron.com/sports/astros/article/Assets-like-Astros-park-TV-network-should-land-1694917.php