In signing Fielder, Ilitch isn't stretching dough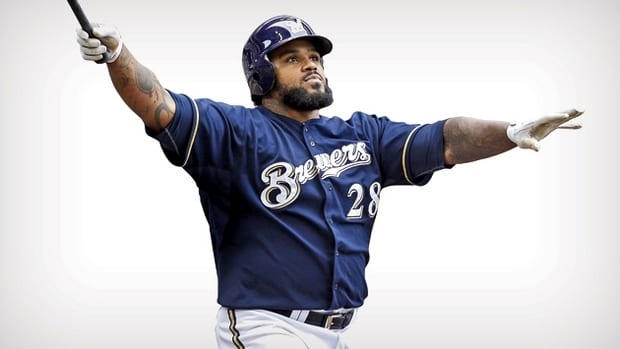 By Bill Shea
Crain's Detroit Business
Published: January 29, 2012
In signing Fielder, Ilitch isn't stretching dough
No, the iconic Little Caesars $5 Hot-N-Ready pizza isn't increasing in price to pay for superstar slugger Prince Fielder's new nine-year, $214 million contract with the Detroit Tigers.
Ticket prices, set for the 2012 season in December, won't suddenly go up, either.
That was the message from Chris Ilitch, president of the Ilitch Holdings Inc. family of companies, after the Fielder signing was made official Thursday.
His father, Little Caesars Enterprises Inc. co-founder and Tigers owner Mike Ilitch, instead can rely on a variety of revenue sources to meet his upcoming payroll, which is likely to surpass $110 million to $120 million in salaries and bonuses — a figure that inflates further when benefits are added.
The payroll includes a combined $63 million alone this season to Fielder ($23 million), Miguel Cabrera ($21 million) and Justin Verlander ($20 million).
That spending is typical of markets larger than Detroit, but it isn't thought to be financially stressful for the wealthy Ilitches, baseball insiders say. The big salaries are high-stakes bets on winning a World Series, which would provide the team millions in new revenue.
And the Ilitches can afford it.
Mike and Marian Ilitch personally are worth an estimated $2 billion, good for No. 212 on Forbes' list of the 400 richest Americas.
The Ilitch-owned companies generate more than $4 billion in annual revenue, the company has said. About $2 billion of that comes from the pizza business, but sports insiders don't think Ilitch has to dip much into nonbaseball business to subsidize player payroll spending.
Major League Baseball's financial structure shields them somewhat from having to use pizza money to pay for baseball players.
The Tigers will get nearly $90 million this season from shared revenues with Major League Baseball's other teams, and from its local cable deal to air games.
The Tigers get about $40 million annually from baseball's Central Fund of shared revenue generated by national broadcast rights contracts and copyright royalties, said Andrew Zimbalist, professor of economics at Smith College and author of several sports finance books including May the Best Team Win: Baseball Economics and Public Policy.
The team gets another estimated $40 million to $45 million annually from its 10-year deal with Fox Sports Detroit to air Tigers games locally, Zimbalist said.
Financial terms of the Fox Sports contract were never disclosed, but it is known that the Tigers, Detroit Red Wings and Detroit Pistons each inked decadelong deals with the network in 2007 and that collectively they are worth $1 billion.
The estimate of the Tigers' annual portion approximation is based on the number of games they play, which is twice as many as the other teams (162 versus 81).
Detroit also gets some level of revenue sharing from baseball, but it's believed to be a small amount. The more lucrative clubs end up paying into revenue sharing rather than getting money each year.
Expensive. Very expensive.
The Tigers had $192 million in revenue for the 2010 season, the most recent estimate available from Forbes.com.
The financial news website estimated that the team lost $29 million in operating income, which it defines as earnings before interest, taxes, depreciation and amortization. Forbes includes revenue sharing and the cable deal in its revenue calculation.
That revenue-loss calculation is against an estimated $150 million in player expenses that included salaries, bonuses and benefits.
The Tigers also have an undetermined number of other expenses beyond player payroll, such as management salaries, game-day operations and construction debt on 41,255-seat Comerica Park.
Forbes estimates that the Tigers are worth $385 million and have a 56 percent debt-to-value ratio — or $215 million in debt. Some of that money is believed to be from non-stadium borrowing, as well.
The team borrowed $140 million in August 2005 from a syndicate of 11 financial institutions, led by what is now Sumitomo Mitsui Bank, to refinance what had been $115 million remaining in debt from the original $145 million loan to build Comerica Park.
The team also has borrowed from the Major League Baseball Trust.
Teams can borrow from the $1.2 billion credit facility, which is backed by baseball's TV revenue, at better terms than may be available to them on the open market.
In 2005, Detroit had borrowed $73 million from the lending pool, Sports Business Journal reported at the time. Neither the team nor baseball will say how much the Tigers have borrowed in total and how much they still owe.
The Tigers, as policy, don't comment on their finances.
Some frugality
The team is saving money in 2012 by not re-signing aging outfielder Magglio Ordonez, who was paid $10 million last season but who also has broken his ankle the past two seasons. Also off the payroll is second baseman Carlos Guillen, who got $13 million in 2011.
Together, their contracts have the same value as Fielder's pay this season. He also gets $23 million in 2013 before the team elevated it to $24 million annually over the final seven seasons. There also are several million dollars in potential bonuses in the deal.
Fielder was signed to replace the offensive production lost when designated hitter Victor Martinez was lost for the year to an offseason knee injury two weeks ago.
Martinez's $13 million salary this season is expected to be covered at least in part by the team's insurance policy.
Rich. Very rich.
The Ilitches have not hoarded their substantial fortune.
Since Ilitch bought the team in August 1992 for $85 million from Domino's Pizza Inc. founder Tom Monaghan, he has spent more than $1.1 billion on player salaries.
Marian Ilitch paid $600 million to buy MotorCity Casino from other investors in 2005 and for subsequent renovations. Revenue totaled $472 million in 2011, a 5.7 percent increase over 2010, according to revenue figures released by the Michigan Gaming Control Board.
The total financing for MotorCity is believed to be $950 million through a highly leveraged mix of fixed- and variable-rate bank debt and junk bonds, according to Forbes.
Marian also has invested in an ongoing effort by the Southampton, N.Y.-based Shinnecock Indian Nation to build a casino on Long Island, which her Gateway Casino Resorts LLC (with partner Mike Malik) would be under contract to operate in return for a portion of the gaming revenue.
The casino ownership is separate from Mike Ilitch because of baseball's rules prohibiting team owners from having investments in gambling operations.
The Ilitch family has other sources of income, such as concerts and events via their Olympia Entertainment Inc. business, a food distribution and restaurant equipment service and three movie theaters. They also have a concession to manage parking garages and lots in downtown Detroit.
The Ilitches have owned the Detroit Red Wings since 1982 — only an $8 million investment — and have a $58 million payroll this season. They benefit from the National Hockey League having a salary cap, a cost control absent in baseball. The team, which has won four Stanley Cups under the Ilitches, regularly fills Joe Louis Arena and its suites and collects revenue from the Fox Sports Detroit cable deal to offset costs.
The family has also committed to building a new downtown arena for the Wings in coming years, a project expected to have a $300 million to $400 million price tag. Financial, construction and location plans haven't been disclosed, but it's believed that the Ilitches will have co-investors on any new facility.
The long view
The spending on the teams is seen by economists as a way to boost long-term value of multiple properties.
"Given his wealth and his wife's wealth and their myriad business interests, it's quite plausible what he's doing with the Tigers is maximizing his wealth portfolio," Zimbalist said. "If the Tigers are successful on the field, if he's got superstars playing for him, he thinks people will be more likely to gamble, to eat pizza."
If Fielder is the final ingredient the team needs to win a World Series, the team can expect a revenue bounce from a boost in season-ticket sales, suite sales, new corporate sponsorships, merchandise, etc. Teams typically raise ticket prices after winning the Fall Classic, as well, and see increased income for several years.
"There are opportunities to create revenue," Chris Ilitch said.
Signing a superstar such as Fielder is viewed as spending money to make money.
"Owners bring in big-name players in hopes of increasing ticket sales, sponsorships and other revenue items, so that it can pay for itself. They often do," said Michael Rapkoch, president Addison, Texas-based Sports Value Consulting LLC.
That's how Fielder and the other top-dollar contracts will be paid for: "It's going to come from an increase in ticket sales and sponsorships. That's where the money is going to come from," Rapkoch said.
When news of the signing broke on Tuesday afternoon, the team was swamped with interest from fans, team officials said.
For example, the team's season ticket staff stayed until 8:30 p.m. on Tuesday handling calls, said Dave Dombrowski, Tigers president, CEO and general manager.
Mike Ilitch, 82, said he had no qualms about investing so much money in a single player, giving him the most lucrative contract in Detroit sports history.
"I go by my instincts like everybody else does in business, and my instincts told me this is going to work out just fine," Ilitch said. "I don't have any concerns. I'm not nervous about it."
Bill Shea: (313) 446-1626, bshea@crain.com. Twitter: @bill_shea19
http://www.crainsdetroit.com/article/20120129/FREE/301299952/in-signing-fielder-ilitch-isnt-stretching-dough