Charlotte Hornets hope fans will bee there for merchandise rollout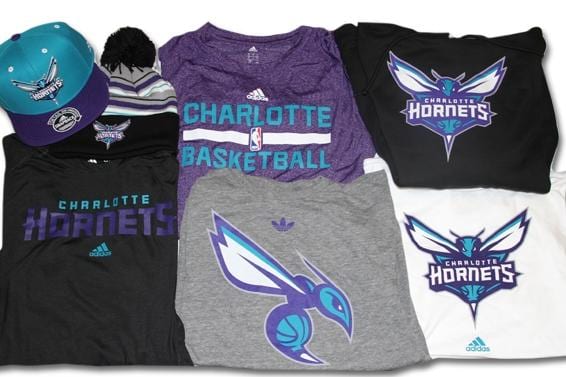 by Erik Spanberg
Charlotte Business Journal
Published: January 17,2014
You've seen the logo, but will you wear it? Charlotte Bobcats executives hope the answer to that question is a resounding yes.
On Saturday, the soon-to-be Hornets will begin selling Hornets gear featuring the updated logo unveiled last month by team owner Michael Jordan. Last summer, Jordan and the Bobcats won unanimous approval from the NBA to change the Charlotte franchise's name to Hornets from Bobcats, starting next season.
Since then, the franchise has taken full advantage of the nostalgia and excitement. The Hornets debuted as an expansion franchise in 1988 under founder and owner George Shinn, becoming one of the most popular franchises in the league before Shinn's off-court controversies and demands for a new arena soured fans. In 2002, Shinn moved the Hornets, name and all, to New Orleans.
That left Charlotte without a team, a situation remedied when cable TV entrepreneur Robert Johnson paid $300 million for a second Queen City expansion team in 2003. Johnson's Charlotte Bobcats began playing a year later, but neither the owner nor the team gained traction with the region's sports fans.
Which brings us to Jordan. Four years ago, he bought majority interest for $275 million and revamped the front office and basketball operations. Investing $4 million to $5 million for the name change is just one of the makeover moves ushered in by Jordan's management.
Season-ticket holders get first crack at the new merchandise, with a three-hour preview sale Saturday afternoon at the arena team shop. At 6:30 p.m., the general public can shop, leading into a sold-out game against LeBron James and the Miami Heat at 7:30 p.m. On Sunday, the Bobcats team store will be open from noon to 5 p.m., and normal store hours resume Monday (11 a.m. to 6 p.m.). The arena retains exclusive retail rights for the merchandise through Monday. After that, other retailers will be selling Hornets items, too.
Fred Whitfield, Bobcats president, said the team store sales coincide with the launch of a retro Air Jordan Nike sneaker. The team has increased security and anticipates lines to get in the store, he said.
Ed Kiernan, founding partner at New York brand consulting firm Engine Shop, said the Hornets should ring up big sales beyond the opening weekend and beyond their home court in the Carolinas.
"I love the logo — you're going to see it popping up in New York and South Beach and L.A.," he said. "It's got that pop-culture, cool look."
So much so that Kiernan, whose firm works with Mercedes-Benz, Johnson & Johnson and other large brands, said he might have to dump his hometown New York Knicks and star Carmelo Anthony.
"I've been looking for an excuse," Kiernan said. "Sorry, 'Melo."
Online sales begin Saturday at 3 p.m. All NBA teams share merchandise sales equally, with the
exception of any home arena and team-operated retail outlets. The Bobcats don't have separate retail stores, unlike some of the more popular franchises in the league. Pete Guelli, chief sales and marketing officer, said the popularity of throwback items featuring the old Hornets logo from the 1980s and 1990s has increased arena store sales by 25 percent this year.
About 50 items, ranging from T-shirts and caps to logo basketballs, will be available this weekend. The product line will expand in the coming weeks and months as the NBA licenses its team logos to 400 companies, many of which make several different types of souvenirs. Adidas is the exclusive apparel company for the NBA.
Jordan, who has a stake in his own line of shoes and apparel at Nike, made sure swoosh-branded Hornets gear will be produced, too. The Nike-Hornets items can be sold only at the arena and not at outside retailers, where Adidas maintains exclusive rights.
Bobcats merchandise has been discounted for several months as the franchise prepares for the name transition. Going forward, Whitfield said the Charlotte club will sell what it calls legacy Hornets gear, its Buzz City apparel introduced last summer after the name-change announcement and the new Hornets logo, billed as a fiercer, more contemporary version.
Industry experts contend merchandise sales are as important as a leading indicator as they are for revenue.
"If fans are interested in your team and they're willing to pay $30, $40 or $50 for merchandise, that's a sign of interest," said Michael Rapkoch, president at Dallas-based Sports Value Consulting. "Now your TV ratings go up (with greater interest), which means the ads (on the broadcasts) go up and more people start going to games. It's one of the gauges (of franchise health)."
And a jump in sales could help small-market franchises such as Charlotte invest in better players.
Guelli, the Bobcats sales executive, called merchandise sales "a piece of the puzzle" along with food and drink sales, arena bookings such as concerts and family shows and regional TV revenue.
Add in Jordan's cachet and the Bobcats stand to strengthen their visibility with the Hornets' arrival. Or, as Rapkoch put it, "Any time you bring Michael into the picture, it's a benefit."
http://www.bizjournals.com/charlotte/blog/queen_city_agenda/2014/01/charlotte-hornets-hope-fans-will-bee-there-for.html?s=image_gallery